Baby Face, 1933
Tough pre-code melodrama about the not-so-easy way to the top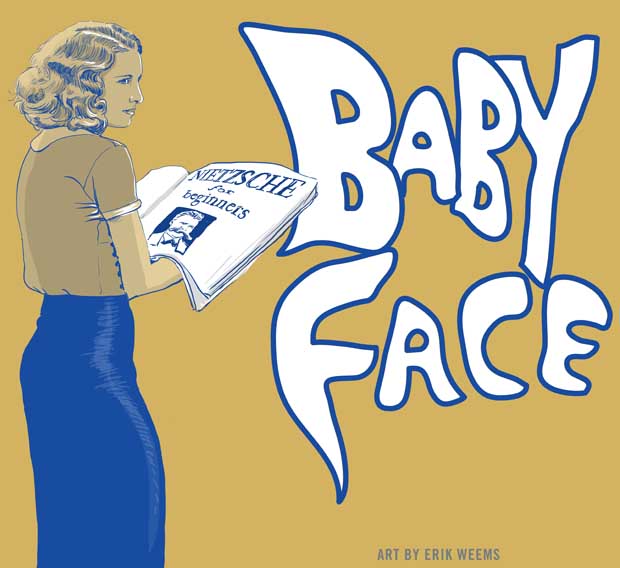 Baby Face - Released November 17, 1933 - Directed by Alfred E. Green
There are two versions of this 1933 pre-code tale. It is only since 2004 that a longer, grittier version containing scenes cut out during the original release were found which clearly spelled out the horrendous situation Stanwyck's character (Lily) works in at her father's speakeasy-saloon: he is prostituting her and has been doing so since she was 14 years old.
Thesesa Harris is on screen as Chico, a quasi-sister, maid and moll for Lily, and whenever a man tries to break them up as a couple, Lily threateningly and calmly tells them there's no way Chico and she will part. Theresa Harris also provides a lyrical lament in various spots of the film, singing or humming Saint Louis Blues (a 1914 tune most popular as sung by Bessie Smith).
Inspired by a German cobbler (played by Alphonse Ethier) who has been telling Lily about the philosophy of Nietzsche, she exits the steel town where she has always lived, determined to go to the city and use whatever is necessary to exploit her way to financial security (the lines from Darryl Zanuck's script are "...a woman, young, beautiful like you, can get anything she wants in the world. Because you have power over men. But you must use men, not let them use you. You must be a master, not a slave. Look here — Nietzsche says, "All life, no matter how we idealize it, is nothing more nor less than exploitation." That's what I'm telling you. Exploit yourself. Go to some big city where you will find opportunities! Use men! Be strong! Defiant! Use men to get the things you want.")
---
---
Once Lily hits town, she uses man after man while amassing a fortune, and this is the usual way Baby Face is described gleefully in the film history books. But it is the earlier scenes in which Stanwyck spars with her degenerate father that sets the angry tone. This is also where we see Lily is already on her way to fearlessly controlling men, for example breaking a beer bottle over the head of a groping local politician, and calmly walking away as if she had already had plenty of practice using this form of self-defence.
Lily can't be dismissed as just a floozy on the make, though, as later scenes in Baby Face show her competent in her work at a Paris bank, and capable of maintaining employment without manipulating anyone. And the fact she has piled up over half-million in cash, jewelry and securities by the end of the movie made me wonder if just her brains plus equal employment opportunities might have resulted in the same stack of wealth without all the slipping off screen with foolish men.
A typical pre-code bad-girl movie shows the audience there is a price to be paid after all of the pre-code fun, but this film turns that around: Lily has already been paying the price before she ever begins her climb up the ladder of social power, using leering males as the rungs.
Longtime Stanwyck co-star George Brent is on hand (they made five films together) as the only guy that might be able to slow her down. A very young John Wayne is also briefly on screen as one of this tales army of expendable males.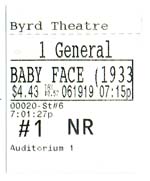 ---
More Barbara Stanwyck
---
---
Original Page July 2013 | Updated August 2019
---
---
AMAZON: Boris Karloff: A Gentleman's Life - 356 Page Biography
---
---
What's Recent
---
---