Buster Keaton
Buster Keaton - born Joseph Frank Keaton. 1895 - 1966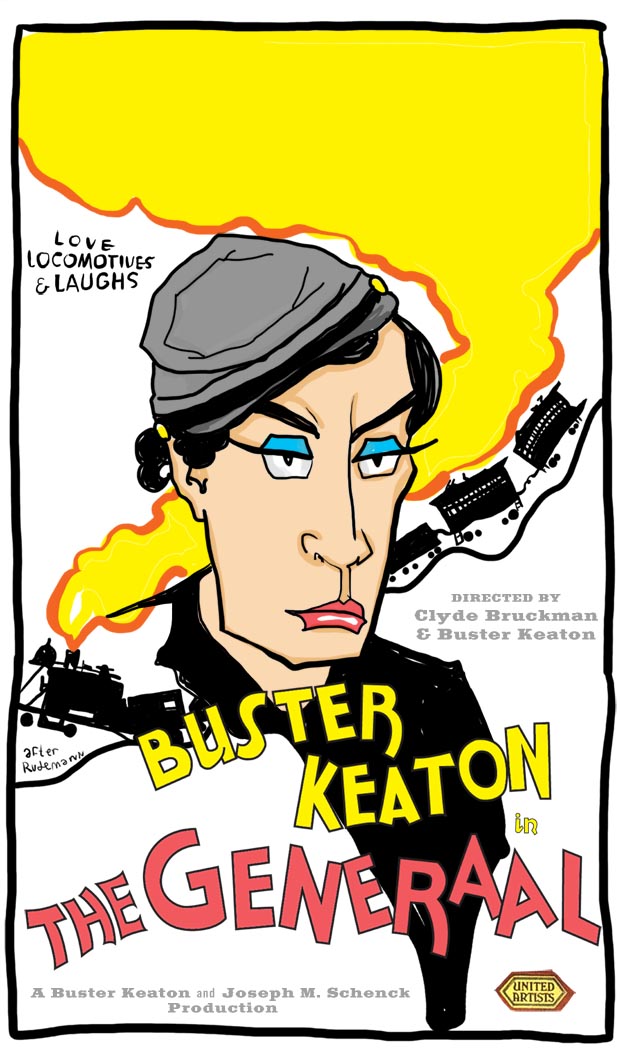 Buster Keaton, born Joseph Frank Keaton in Paqua, Kansas, October 4, 1895, between shows that his parents were performing in. He was onstage at the age of 9 months, and at the age of five was a regular part of his parent's vaudeville act.
Buster Keaton claimed that his nickname "Buster" came from Harry Houdini, who, after seeing the (then) child actor take a fall down a flight of steps without any damage, exclaimed "That's sure a buster!"
By the age of 21, Buster Keaton was a successful headliner in vaudeville, but had taken up an interest in working in the newly born medium of moving pictures.
---
"According to Eleanor Keaton, Keaton's work methods rarely included writing anything down. Instead he would sit and work out entire routines in his head, or silently pantomime his way through a sketch over and over. Most comedians keep records of gags and jokes, even whole filing rooms that look like the back room at a bank where clerks toil, but Keaton only kept bags of props and his own mental filing system.

He was known to break down segments of a routine by timing it against pop music which he would listen to over a radio while working on a routine, editing the timing to flow like a piece of music.

Keaton liked to experiment and tinker with routines, and this attitude was what he utilized in making films, something he learned from his personal friend film comedian "Fatty" Arbuckle, who Keaton treated as a mentor on how to make a movie.

Keaton took physical risks in making his films that went well beyond just dedication. During the making of Sherlock Jr., he actually broke his neck, and without knowing it continued to work in pain, the break not being detected for years. He nearly drowned in Our Hospitality. He broke other bones in various films, but had a physical resilience that rarely slowed him down on set, where he would usually finish a scene in one take, would continue to improvise a scene if it had gone wrong, thus sometimes using material that was made up on camera."
From Buster Keaton: Stoic Sphinx with a Porkpie Hat
---
Kinetic Man: Buster Keaton
From the Hugh Kenner book The Counterfeiters: An Historical Comedy by Hugh Kenner – Amazon (Published 1968) page 68:
"Buster Keaton's subject was kinetic man, a being he approached with the almost metaphysical awe we reserve for a Doppelganger. This being was, eerily, himself, played by himself, then later in a projection room, watched by himself: an experience never possible to any generation of actors in the previous history of the world. He could watch himself, moreover, doing again things that in much earlier phases of his life he had actually done: being blown about by a cyclone, for instance, as he was in Kansas at the age of two and one-half. And his father in more than one film was his father, Joe Keaton, and the bride he plucked off the ledge near the waterfall was indeed his bride of two years, Natalie Talmadge Keaton...'
---
The Cameraman (The Criterion Collection) [Blu-ray] - Buster Keaton - Amazon
---
---
What's Recent
---
---
---
Original Page June 29, 2014 | Updated April 2021