Cat People - 1942
Cat People - Released December 25, 1942. Directed by Jacques Tourneur
Psychology and superstition collide in this 1942 film from Val Lewton and Jacques Tourneur. Irena Dubrovna (Simone Simon) is a European emigree who finds herself torn between her love for her new American husband (played by Kent Smith) and her family tradition of fear about uncontrollably turning into a panther when emotionally triggered. When the husband grows impatient with these old-world fears and Irena's progress working with a local psychologist (Tom Conway) isn't moving fast enough, he turns to a work colleague (played by Jane Randolph) for comfort, and a dangerous love-triangle has been formed.
Director Jacques Tourneur (son of silent film director Maurice Tourneur) works with his screen imagery often by way of subtraction: as the tension is increased, less and less is shown, with shadow and ambiguous movement filling the mundane urban setting where Irena confronts her troubles.
How Cat People came about
Producer Val Lewton had been hired into RKO to make low-cost horror films, and his first project was just a title and a vague idea handed over to him: Cat People.
This was Lewton's first film on his own and he was expected to bring in a competitive quality product in a field where Universal Pictures had been dominating for years. He had apprenticed under David O. Selznick as a story editor, the in-house Russian literary expert, a quality analyst, and uncredited screenply "fixer," among other varied roles. Lewton had worked for Selznick for years beginning when they were both at M-G-M and then later hired into Selznick International when the famous producer went solo. Lewton famously tried to keep Selznick from pursuing Gone with the Wind, but championed Hitchcock coming to America for Rebecca, among other projects.
Lewton came to RKO with excellent references, besides his work under Selznick, he had been at M-G-M in various posts since 1926, was the nephew of Alla Nazimova who was a famous silent-era film and stage actress, and Lewton's mother Nina Lewton had been working for M-G-M since 1916.
Though it has long been said Lewton's unit at RKO was a "B-movie" unit, there's been good arguments made that he was actually given the reins of a sub-A unit, as he had access to people and a freedom to develop projects that a typical B-unit would not have available, and after Cat People went on to make $4 million in box office receipts (or "only" $2 million, depending on the source of the accounting), Lewton's budgets steadily increased on some of his better projects (such as his string of Karloff films). That freedom Lewton enjoyed was curtailed at the marketing stage, though, and also the titles which he was given, all being "market-tested" according to the RKO executives Lewton was now working for (for example, Lewton and Tourneur's next film was I Walked with A Zombie, an excretable title for a well-made film.)
Lewton was glad to get Jacques Tourneur for a director on Cat People, the two had already worked together for a special sequence in the 1935 Tale of Two Cities back at M-G-M, and the pair commenced to circumnavigate the main goal RKO had for Cat People, which was to imitate Universal's The Wolf Man. They did pirate more than a few of the tics of the Lon Chaney Jr money-maker (an obvious example is the love-triangle which dominates both movies), but Lewton and Tourneur mixed up the Universal formula in a different pattern and added in a special quality that was a clever leap-forward for horror films of the era - - a psychological element that was more characteristic of the budding-noir films and of more richly written Melodramas from Hollywood.
Read more - A New Kind of Horror Film in 1942 - Lewton's Cat People
Also - Val Lewton org - Cat People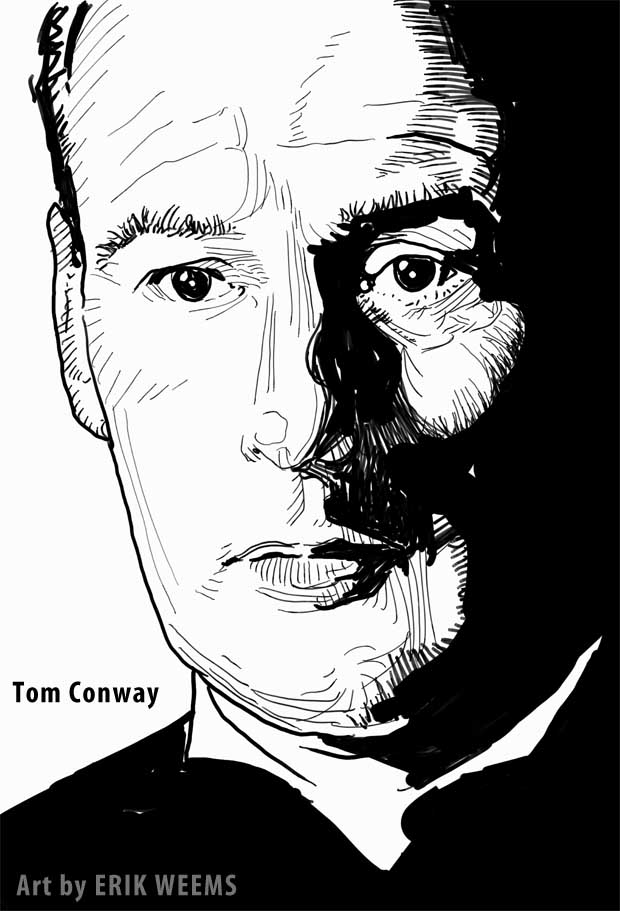 ---
Original Page November 2012
---
---
What's Recent
---
---