Cry Danger - 1951
Cry Danger - Released February 21, 1951. Directed by Robert Parrish (there have been claims made by cast member Jean Porter that the film was primarily directed by Powell himself, who gave the credit to Parrish).
This film is held in high regard by fans of the noir genre, and with good reason. Dick Powell's Rocky is a bruised and cynical ex-con who is paired with an equally cynical drunken one-legged ex-marine sidekick (Richard Erdman) and between the two they are trying to sort out how Rocky was framed and sent to prison years ago (the ex-marine Delong provided a phony alibi which got Rocky out of prison). These two characters are equipped with biting dialogue by William Bowers (screenplay) and Jerome Cady (story).
The two men traverse the post-World War II world of Los Angeles, and much of the film is shot on location, providing an almost documentary look at 1951 LA, with the black and white cinematography by Joseph F. Biroc part of the film's charm.
For Rocky, the quickest route from A to B is to just push your way through, and there's plenty of opposition as he starts turning over rocks looking for answers. Powell has worked in the noir genre before, in the classic Philip Marlowe tale from 1944 Murder, My Sweet, but this film's Rocky is a simpler and rougher man with a bigger personal investment in what happens.
Nancy (Rhonda Fleming) is the wife of Rocky's still-imprisoned buddy, and Darlene (Jean Porter) is a part-time pick-pocket and nightclub girl who keeps ending up with Delong's money because he can't stay sober.
Nancy isn't exactly sure where her loyalties really lie, with the husband who is in prison, or with Rocky, who incidentally has taken up residence in a little trailer at the mobile home park where Nancy lives.
Criminal mastermind Castro (William Conrad) has converted his many illegal activities into legitimate enterprises during Rocky's years in prison. Now Castro finds himself up to his neck in sorting out old problems he thought buried away quietly when he saw Rocky sent to jail.
Cobb is the local policeman keeping an eye on Rocky (Regis Toomey as Cobb is described by Rocky as "looks like an angel, talks like a thug"). Cobb is sure Rocky is out of prison on a phoney alibi, and as he puts it, he wants to make sure Rocky goes back to "where he belongs". Soon enough, Rocky is framed again and double-crossed by Castro, it looks like sending Rocky back will be easy, but then Cobb notices that all the facts just don't line up right....
The film is loaded with 1951-era noir slang and dark twists that make it one of the best of that years noir films, and the writing is especially inventive and contains witty dialogue. Though obviously shot on a tight budget and utilizing many real Los Angeles locations, which gives the film a unique look, the material and the straight-ahead acting covers ground quickly with style and a compacted plot.
Jean Porter, who played the cheerful pickpocket, said in an interview with film writer Tom Weaver that Dick Powell actually directed the film, but the directorship in credits is attributed to Robert Parrish.
---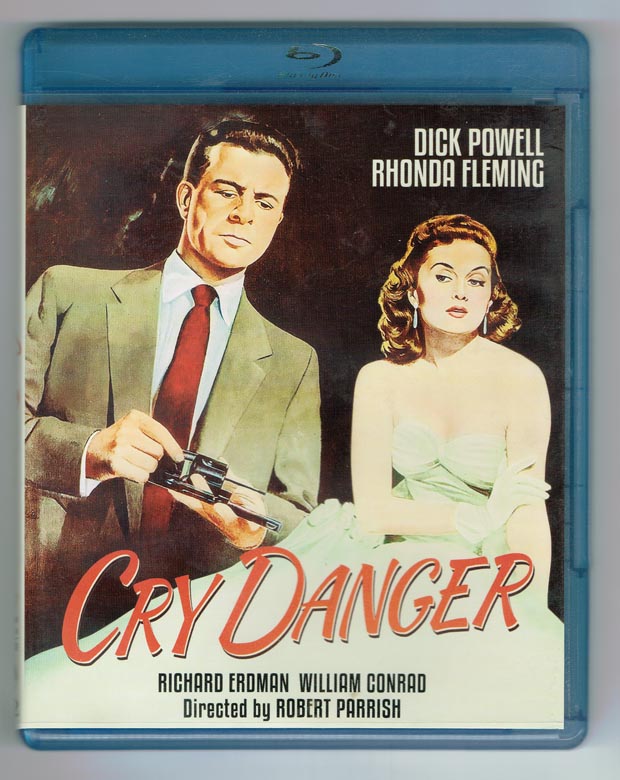 AMAZON: Cry Danger 1951 high-def Blu-ray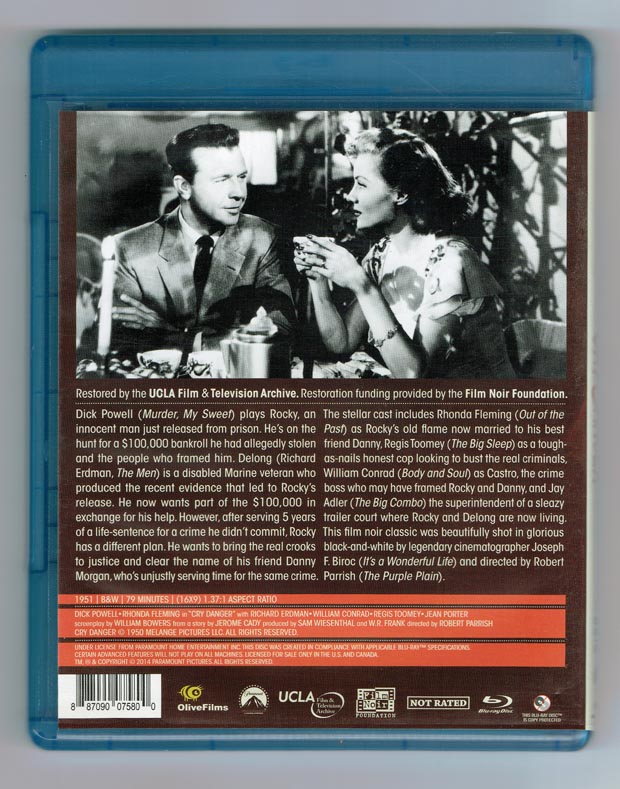 ---
Information below from 2011 prior to the Bluray Release
The site Ferdy on Films tells the story of this legendary, though not often seen, 1951 film noir "Cry Danger" in which the copyright is owned by one company (Paramount) and the only good film elements are owned by another company (Warner Bros), hence no DVD edition is available (there is a long out of print VHS version). Though a restored 35 mm print is used at film festivals (the restoration effort partially funded by Rhonda Fleming, who played 'Nancy' in the film, )
---
Original article 2011 | Updated April 2018
---
---
What's Recent
---
---