Flaxy Martin, 1949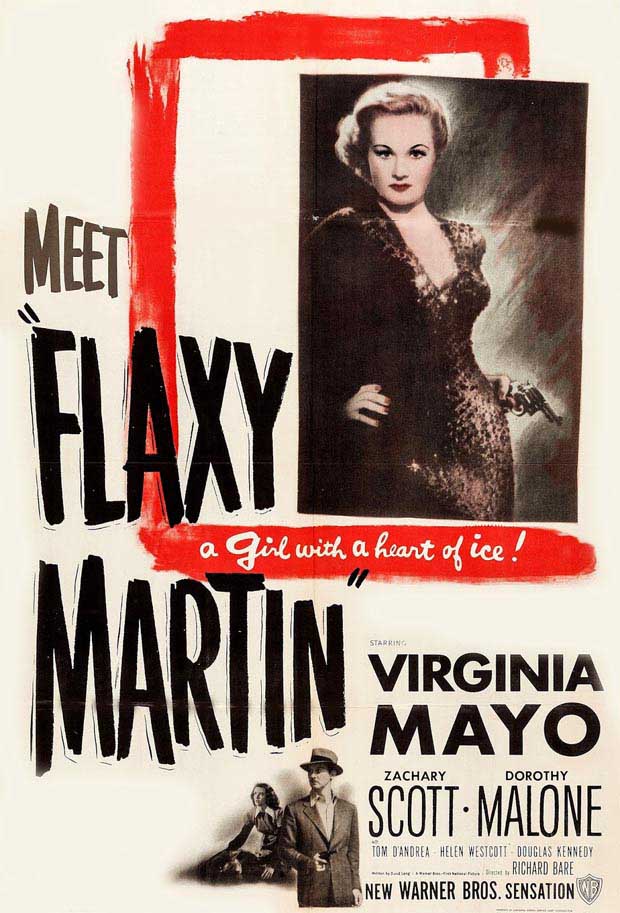 ---
---
Zachary Scott plays conflicted Attorney Walter Colby, one of the angriest lawyers I've ever seen, there's no Perry Mason-esque cool-headed efficiency here. Under pressure in his legal work for mob boss Hap Richie (Douglas Kennedy) Attorney Colby is wrestling with himself and unable to find anyway out of the ethical mess he is in.
Virginia Mayo is a money-hungry show girl named Flaxy who is using Zachary and his infatuation for her to build up her personal wealth. She will effortlessly sell him out to the police, letting him get framed (actually, in a way, he frames himself, no wonder he's so angry) for the murder of a snitch that had ratted on gangleader Hap.
Dorothy Malone is the "plain-girl" (she still looks like a movie star, just dressed-down a bit) who is the reverse of the "heart of Ice" character played by Mayo, and clearly Malone is our hero in Flaxy Martin. She rescues Scott after he escapes police custody, but the pair end up handcuffed together and at the mercy of perennially malfunctioning gangster hit man Elisha Cook, Jr.
What the film lacks in subtlety (Mayo is so smart she ends up outsmarting herself) it makes up for with speed and plot efficiency, and the infrequent action sequences are well done. Directed by Richard L. Bare, story by David Lang.
[Zachary Scott has the corner on mid-20th century frustration,as can be seen in the Joan Crawford vehicle Flamingo Road]
---
Original Page September 2014 | Updated April 2018
---
---
What's Recent
---
---