Havana Widows - 1933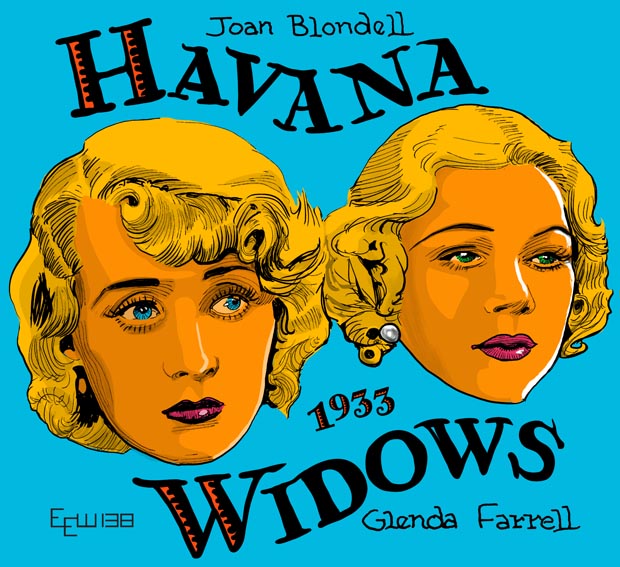 Havana Widows - Released Nov 18, 1933 - Directed by Ray Enright
"How many times do I have to tell you, find out who a guy is before you sock'em."
This Glenda Farrell/Joan Blondell buddy film is a Goldiggers variation with the pair ending up in Havana, Cuba, trying to obtain wealthy husbands, or to at least put a few wealthy husbands into compromising situations so they'll have to pay off to keep everything out of the news.
The two are in a desperate bid to escape from their relentless showgirl schedules in depression era New York where they face low pay, coercion toward something that sounds more or less like prostitution, and suspension or paychecks docked at the theater where they work for being uncooperative or for "scratching your backsides onstage" during their routines.
---
---
When the tale shifts to Havana the comedy of Havana Widows picks up and morphs into a screwball adventure versus the tough times of the first act, though a patina of sardonic patter is throughout the movie (courtesy of writer Earl Baldwin) and this reduces the film at times to nothing more than a roving number of scenes where Blondell and Farrell fire off one-liners, one after another.
---
---
If early 1930's sarcasm is appealing, so thus will be this film. However, the predictable story amid all the snappy dialogue keeps the movie from gelling into a quality pre-code comedy. American girls searching for love - or riches - in a foreign locale was being mined pretty heavily by 1933, a sub-genre of another sub-genre, cruise-ship romances. The ship here is stock footage and that's what Havana Widows seems like in general, a tale culled out of other stories and films. The originality here consists entirely of Blondell and Farrell giving their words their own unique turn, and they of course do that expertly.
I've Got Your Number/Havana Widows Double Feature - Joan Blondell - Amazon
---
---
What's Recent
---
---
---
Original Page 2018 | Updated October 2019