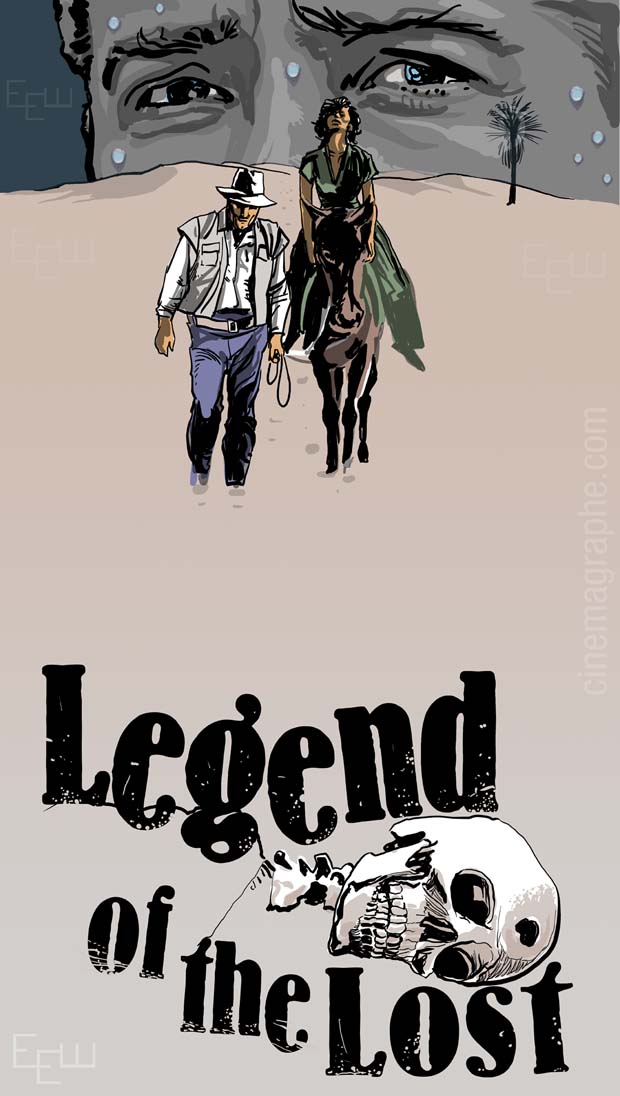 Legend of the Lost - 1957
December 17, 1957 release starring John Wayne, Sophia Loren and Rossano Brazzi
Rossano Brazzi ("Paul Bonnard ") starts off this movie as a well-intentioned explorer who has a secret route to a lost treasure in the middle of the North African desert. He enlists brawling ne'er-do-well John Wayne ("Joe January") as a guide, and the two men end up with Sophia Loren ("Dita") hot on their trail.
Why is she after them? Because in a prelude more or less like the story from the 1932 film Rain (Joan Crawford, Walter Huston), Brazzi has filled the head of town prostitute Dita (Loren) with ideas about resurrecting her moral life and starting over. Also like Rain, somebody is going to go off the rails, and in this 1957 adventure film, it has to be Brazzi (like Huston did in the 1932 movie).
Surface similarities aside, this adventure film is one of the broader Wayne movies of this period, and the screenplay by Hecht has a lot of sympathy for all the characters involved.
Brazzi's Paul Bonnard, a crazed explorer who can handle hardship and risk as long as he is focused on the teachings of his very upstanding, but deceased father, cracks under the strain of success. Once he comes across the ancient loot in the ruined Roman city that is their goal, plus the corpse of his Dad and a battered bible with notes which may indicate his father was betrayed in a lethal love-triangle, Brazzi's world, built upon his memory of his father, collapses, and so does his iffy mental state. He then turns to Dita (Loren) as a convenient consolation prize, the explorer dropping righteousness and now convinced that if his father turned to avarice and lust, well, he'll just keep following dad's road to ruin.
Ironically, that's how the journey started between Wayne's Joe January and Dita - - he doesn't want her along, but if she is there, then there may be more uses for her besides just letting her cook and tend to cleaning.
Loren's Dita isn't having any of it from either man. She was converted to the idea of a different life, and is staying upon the straight and narrow, even though it's starting to look like the three explorers may be trapped in the desolate Roman treasure city on a one way trip.
The location shooting for Legend of the Lost is around Tripoli, Libya, and makes for a good looking color film. The desert scenes are fine but if we've seen David Lean's Lawrence of Arabia there might be some disappointment that the desert areas aren't exploited to the level we might be used to because of that later film's craftsmanship and composition excellence.
On the other hand, this is a John Wayne film that's a bit out of the ordinary for Wayne, though he is certainly playing a "John Wayne" character. Ben Hecht's writing alludes to depths being within the characters, but the film doesn't really exploit that either, and instead the adventure dominates the tale completely, and in that regard it is done well.
Director: Henry Hathaway
Writers: Ben Hecht and Robert Presnell Jr.
More John Wayne
More Sophia Loren
---
Cary Grant and Sophia Loren
---
---
---
What's Recent
---
---
---
Original page November 2012 | Update June 27, 2023