Libeled Lady - 1936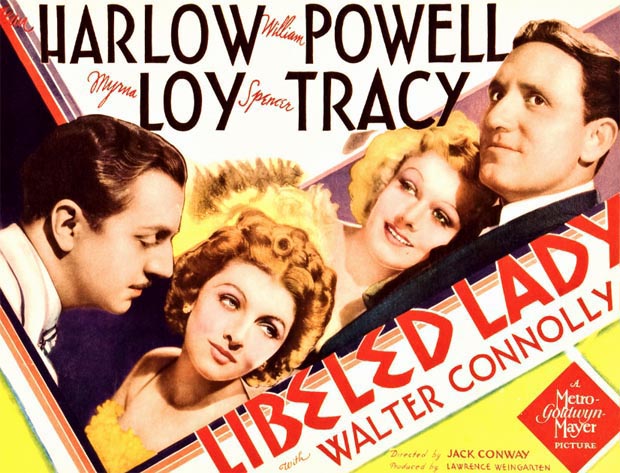 Libeled Lady - Released October 9, 1936. Directed by Jack Conway
One of the best made screwball comedies of the 1930s, with glossy M-G-M packaging and four big stars all in their prime: Myrna Loy, Spencer Tracy, Jean Harlow and William Powell.
The star billing is split four ways, and each actor is balanced against the other as far as importance to the plot and screentime, but it is Powell and Harlow's ridiculous back-biting at one another that steals the show. Like a championship tennis match, Harlow's comedic charm and William Powell's self-deprecating humor and sarcasm gets batted back and forth with each one scoring off the other. These two characters may not be meant for each other (the two get thrown together as part of a trick to end a libel suit by a defamed wealthy socialite played by Myrna Loy), but the pair play off one another in perfect synch which is silly and full of animosity while pretending to be in love (as part of the scam) but when no is watching, they loath, insult and throws things.
Love will triumph in the end and each character will go home happy, but Jean Harlow is the one who ultimately steals most of the focus, and the one at the end for whom it is most important that she is happy.... and after Powell's character punches Spencer Tracy's character in the nose, she is.
---
Myrna Loy and Cary Grant - The Bachelor and the Bobby-Soxer, 1947
---
Myrna Loy: The Only Good Girl in Hollywood
424 Pages

"From the beginning, Myrna Loy's screen image conjured mystery, a sense of something withheld. "Who is she?" was a question posed in the first fan magazine article published about her in 1925. This first ever biography of the wry and sophisticated actress best known for her role as Nora Charles, wife to dapper detective William Powell in The Thin Man, offers an unprecedented picture of her life and an extraordinary movie career that spanned six decades. Opening with Loy's rough-and-tumble upbringing in Montana, the book takes us to Los Angeles in the 1920s, where Loy's striking looks caught the eye of Valentino, through the silent and early sound era to her films of the thirties, when Loy became a top box office draw, and to her robust post–World War II career. Throughout, Emily W. Leider illuminates the actress's friendships with luminaries such as Cary Grant, Clark Gable, and Joan Crawford and her collaborations with the likes of John Barrymore, David O. Selznick, Sam Goldwyn, and William Wyler, among many others. This highly engaging biography offers a fascinating slice of studio era history and gives us the first full picture of a very private woman who has often been overlooked despite her tremendous star power."
---
Original Page August 28, 2016 | Updated Jan 2018
---
---
What's Recent
---
---