The African Queen - 1952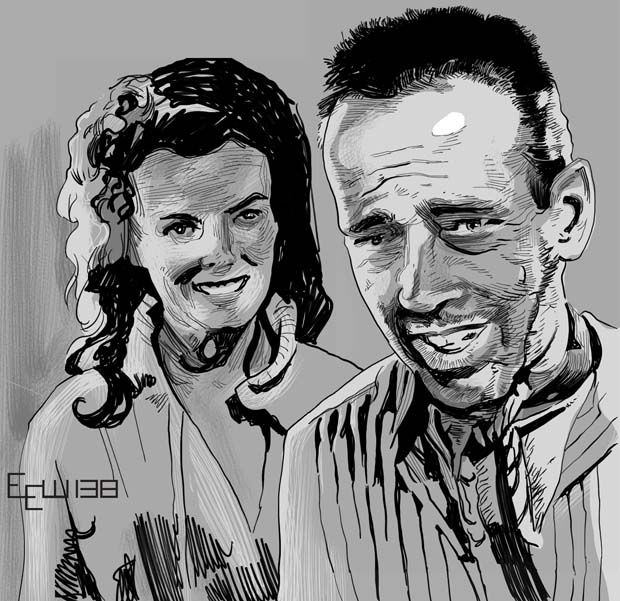 The African Queen - Released March 21, 1952
Director John Huston's film of the C.S. Forester story features a habitually drunken steamboat captain named Charlie Allnutt (Humphrey Bogart) who unexpectedly ends up with a missionary spinster on his hands and in his boat. The pair retreat down river from the burned out African village where her brother (Rev. Samuel Sayer, played by Robert Morley) has been beaten up by German marauders and where he then subsequently succumbed to fever.
Sister Rosie (Katherine Hepburn) isn't agreeable to the steamboat captain's intention to just stay out of the German's way and to drink up the ample supply of whiskey he has stored onboard. She learns the river they're on eventually connects to a huge lake that's almost a small sea in Africa, and it is patrolled by a German warship called the Louisa. Rosie is certain they can sink the German ship if they can come up with a suitable plan, but Allnutt refuses, insisting the idea is crazy, for multiple reasons which he angrily states to her: the difficulty of continuing all the way down the river where many hazards for his small craft will be encountered, to the even bigger problem of his little boat daring to face down the much bigger warship.
---
---
However, the immediate problem isn't striking back at the Germans or avoiding them, instead its that these two are such an ill-matched pair to be sharing confined quarters on Allnutt's boat. They skirmish about the alcohol and on the condition of the craft and on simple issues of personal hygiene, such that frequently they are not even on speaking terms until Rosie takes matters in her own hands and dumps all of the alcohol overboard while the captain is in a stupor, this eventually leading to a more rational discussion of their situation.
The African Queen had a number of scriptwriters who labored over the story, for example famed script-doctor Peter Viertel who traded his writing credit to Huston just to get out of the project during pre-production on location in Africa (official credit goes to John Huston and James Agee, with uncredited work by John Collier). Long before the movie stars arrived to begin filming, the project went through many on site pre-production hiccups, chronicled in a fictionalized way in Viertel's novel White Hunter, Black Heart which was made into a movie in 1990. The latter part of the filmmaking story was featured in a published diary/narrative by Katherine Hepburn in her 1987 book The Making of 'The African Queen,' or How I Went to Africa with Bogie, Bacall and Huston and Almost Lost My Mind.
The story in the film of The African Queen bears similarity to a Somerset Maugham tale Vessel of Wrath (made into a comedy titledThe Beachcomber in 1938 with Charles Laughton and Elsa Lanchester) with both tales featuring a missionary woman who becomes a self-appointed agent of reformation for a cantankerous alcoholic man, and the two eventually must face a crisis together which brings out a deeper understanding and then mutual admiration for one another. Also similar, both film versions of the two tales are in "exotic" locations, with The Beachcomber taking place in the South Pacific, and The African Queen in Africa.
Those similarities aside, Hepburn and Bogart's version of a rather odd couple making their way down a dangerous river and then onward with an assault on a World War One German warship is also a showcase for The African Queen as an oddball adventure film. With the color and African location photography, The African Queen is following in the footsteps of another adventure film that featured a story of a long trek across a dangerous landscape (on foot), that is, King Solomon's Mines from 1950, a film that was a huge box office success, shot on location and in color in Africa. That film was a highly polished, typical adventure and romance with two at-odds male and female leads who learn to understand and depend on each other while under pressure, but what King Solomon's Mines has in scope and well-honed adventure storytelling, The African Queen deviates from with a quirky (and often comedic) story centered on just our two heroes moving through a mostly people-less landscape. Aboard their steamboat, they are separated from land and exist together like a strange Adam and Eve in transit, not just dealing with their peculiar mission to take on the German warship, but the two dealing with their peculiar and unexpected romance, something that their middle age and circumstances made completely unlikely.
Bogart and Hepburn make a very good two-person cast, since that is who we mostly see in the film except for the bookends of the beginning and end which brings in the rest of the cast, if we don't count all of the alligators and land animals that pass by as the tale progresses to the unexpected but fitting climax. The end is where we meet with the sputtering, consternated actor Peter Bull (as the German ship captain) who almost cannot believe in the bizarre audacity of The African Queen.
Amazon streaming - The African Queen
---
---
---
What's Recent
---
---
---
Original Page January 21, 2021