He Who Gets Slapped - 1924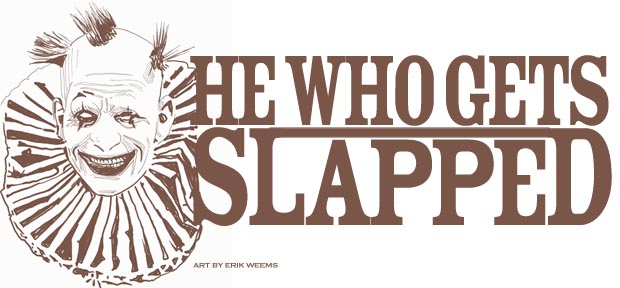 He Who Gets Slapped - 1924 silent with Lon Chaney.
Chaney's Laugh, Clown, Laugh from 1928 is the better known and appreciated circus movie, but this vicious 1924 silent (and first effort from the newly formed M-G-M) has a sharper story and stays within Chaney's character type of the avenger that no one saw coming (that is, referring to the story cast, not the film audience. We can see what's coming from a mile off).
Chaney is a dedicated, intelligent and sensitive inventor named Paul Beaumont who is betrayed by his wife and his research patron (Baron Regnard, played by Marc McDermott) who steal his work and leave him humiliated after mocking, slapping and laughing at the distraught man.
---
---
Stuck in an emotional and psychological crisis, Beaumont becomes a clown in a circus who, as part of his act, is repeatedly slapped by a group of other clowns. This cruel skit (played for laughs for the jeering audience) is actually a kind of daily reenactment of Beaumont's humiliation at the hands of his former friend and wife.
As the story progresses, we will see that Chaney's circus clown (stripped of his prior identity and now known only as "HE") is infatuated with and takes a protective interest in Consuelo, a kind-hearted young woman and fellow performer who is a bareback rider (played by Norma Shearer, just 20 years old in this film). Consuelo has a scheming father (Count Mancini, played by Tully Marshall) who is dedicated to selling his beautiful daughter off to a wealthy man, and thus in walks Baron Regnard.
Soon, HE the circus clown will discover that the Baron is in pursuit of Consuelo, and that the Baron is not really interested in any matrimonial obligation, despite her leering father's dickering over a price with the impatient Baron. In other scenes we realize the Baron has discarded Beaumont's adulterous wife in his new focus to obtain Consuelo.
Elsewhere, John Gilbert is a Circus performer who befriends Consuelo and the two are soon falling in love with one another, and HE the clown is sadly seeing his affection for Consuelo no match for the younger man, in fact when HE professes his love to her, she believes it a joke, nothing more than an extension of his clown act.
HE may have failed to win the heart of Consuelo, but when he realizes the full extent of the negotiations between Count Mancini and Baron Regnard over Consuelo's flesh, HE takes the matter into his own hands.
Gilbert plays a kind of role in He Who Gets Slapped that isn't that dissimilar to another circus film from Chaney, The Unknown, in which handsome Norman Kerry played the competing love interest. But, in He Who Gets Slapped, Chaney isn't embittered (or a maniac!) and so Gilbert isn't subjected to the homicidal plots of revenge that pervaded that later film directed by Tod Browning.
---
---
Norma Shearer as the lovely young woman seems to be in a kind of part Chaney always ends up protecting in one way or another (even in the crazy plot of Tod Browning's The Unknown, but also in other "straight" films like Tell it to the Marines). Shearer's Consuelo is kind-hearted but is oblivious to the true nature of the love HE has for her, and when she playfully pretends to slap his face after he has told his "joke" of being in love with her, it becomes all the more clear that slapping is a multifaceted action in this film, and only He, and we the audience, realize the utter alienation Beaumont has fallen into by becoming a circus clown and being caught up in the daily ritual of being slapped which results in HE never being heard.
Care was taken in the production of He Who Gets Slapped, and there are interesting special effects and story-telling devices used. For example, the little knit heart that HE carries as part of his costume which provides more than mere decoration, and the spinning globe in which a group of clowns surround it as if they are ethereal, gigantic spectators, visuals that were state-of-the-art for a silent film in 1924.
Director Victor Seastrom is efficient in telling the story and keeps the unusual tale moving forward.
He Who Gets Slapped is based on a play by Leonid Andreyev and was adapted by Carey Wilson.
---
Lon Chaney
---
Amazon: Lon Chaney: The Warner Archives Classics Collection: WHO GETS SLAPPED (1924), MOCKERY (1927), THE MONSTER (1925), MR. WU (1927), THE UNHOLY THREE (1925), and the sound version THE UNHOLY 3 (1930)
---
Amazon: TCM Archives - The Lon Chaney Collection (The Ace of Hearts / Laugh, Clown, Laugh / London After Midnight / The Unknown)
---
---
What's Recent
---
---
---
Original Page Oct 2019 | Updated April 2021