One Way Passage - 1932
One Way Passage - Released October 21, 1932
Classic doomed romance film: She's terminal and he's on his way back to the states to sit in the electric chair. It's a cruise-ship romance padded with humor but with a grim undertone. Directed by Tay Garnett, starring Kay Francis and William Powell. Also has Aline MacMahon and Frank McHugh.
She has a strange terminal illness, and he is scheduled for execution with a death sentence in the states, and they meet aboard a cruise ship on its way across the Pacific.
Some light comedy is tossed in by Aline MacMahon and Frank McHugh as two con-artists working the cruise ship lines, and Warren Hymer as a stoic brick-house police sergeant determined to get felon Powell back to San Francisco. But these side-stories are just backdrop for the story of the two principals living on borrowed time.
One Way Passage was made in the heart of the American Depression, with the two stars doomed from the outset. The resulting romance is made epic when Powell's character deliberately blows his chances for escape so that he can care for the rapidly deteriorating Francis.
Kay plays doomed love well, and Powell is his usual dapper, snappy self, cheerily heading toward the electric chair because it's what a gentleman crook does in these circumstances. From Four Key Kay Francis FIlms
Other resources online:
Precode.com - Nice overview of One Way Passage
---
Kay Francis
---
Kay Francis @ Amazon
AMAZON:The Complete Kay Francis Career Record: All Film, Stage, Radio and Television Appearances
Publisher : McFarland; Reprint edition – 295 Pages
AMAZON: Kay Francis: A Passionate Life and Career
Published by McFarland – Illustrated edition – 240 Pages
AMAZON: Kay Francis: I Can't Wait to be Forgotten: Her Life on Film and Stage
BearManor Media – 2nd edition – 380 Pages
AMAZON: Warners Archive: Kay Francis - Confession – Director: Joe May
---
You will see Amazon links on this web site because I am an Amazon affiliate. I earn from qualifying purchases.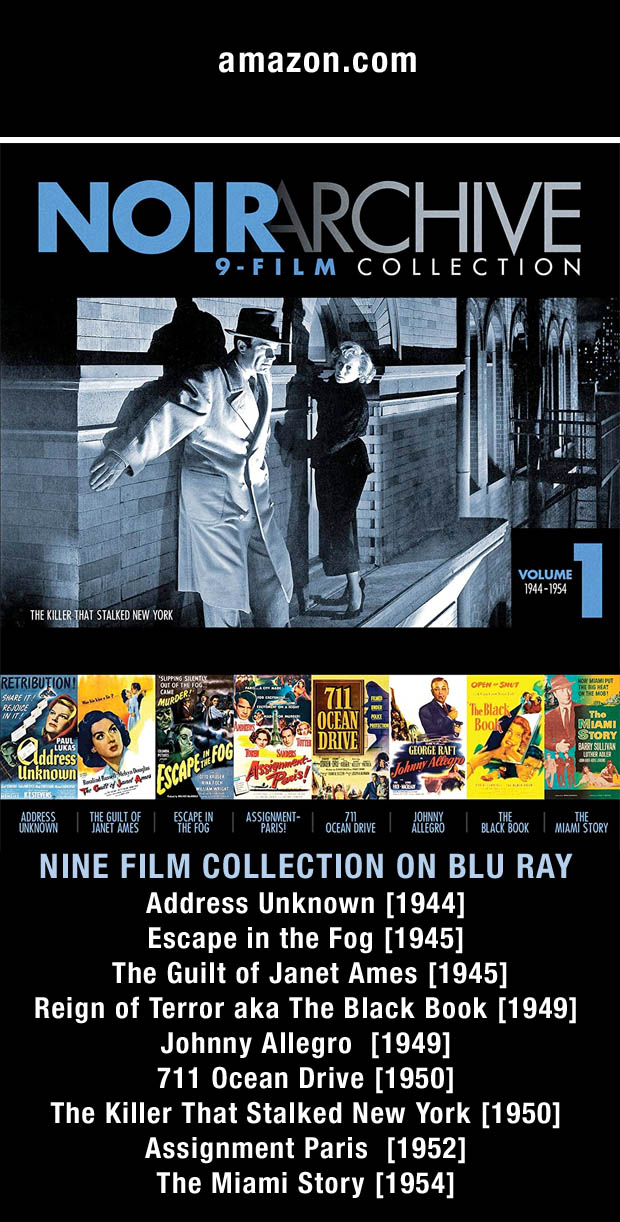 Noir Archive Volume 1: 1944-1954 (9 Movie Collection) [Blu-ray]
---
---
What's Recent
---
---
---
Original Page July 2014 | Updated March 90, 2021