The Body Snatcher - 1945
The Body Snatcher - Released May 25, 1945. Directed by Robert Wise
Cabman Gray: What makes a thought start?
Dr. MacFarlane: The brain, I tell you I know!
Cabman Gray: You don't know and you'll never know! Look, look at yourself. Could you be a doctor, a healing man, with the things those eyes have seen? There's a lot of knowledge in those eyes, but no understanding...
Henry Daniell and Boris Karloff are in a 77-minute duel of will in The Body Snatcher as an ethically (and emotionally) compromised upper-class doctor (Daniell) finds himself in the power of the working class cabman John Gray (Karloff) a fellow who ferries both living and dead bodies, for a fee.
Daniell (as Dr. Wolfe MacFarlane) intends to do better and fly right, but with Karloff gleefully watching his every move and holding certain old secrets over his head, it just isn't going to happen. Bela Lugosi has a minor character in the tale who intends to cut-in on the blackmail game being played, but this turns out to be a very badly thought-out maneuver.
Daniell and Karloff are very good together and continually move the story into places that the camera can't show, that is, how the two men have separate bodies but share a mutual experience that Gray won't forget and MacFarlane keeps trying to, small comments eluding to things never completely explained. Each actor provides long, restrained performances that use subtle modulations to let you know where everything is headed (Lugosi's small role is equally restrained, helping to turn the film into an unusual piece of drama for an exploitation title, especially while starring two of horrordom's two biggest names.)
Robert Wise (and producer Val Lewton) keep the movie shuttling along, handling the material as if it isn't really a horror film but a period drama, but this can't be maintained, really, and it becomes a sideways-retelling of the real cadaver-supply scandal that happened in Edinburgh, Scotland, where two men named Burke and Hare took up the matter of finding corpses for medical schools to conduct training and research on, and then became not-too-picky about how they maintained the lucrative and steady supply of bodies.
As much as this is the premise for the horror elements of Lewton and Wise's little movie about grave-robbing (via Karloff's cabman), the real story is about two men (Daniell and Karloff) in a wrestle for the control of Dr. MacFarlane's mind.
---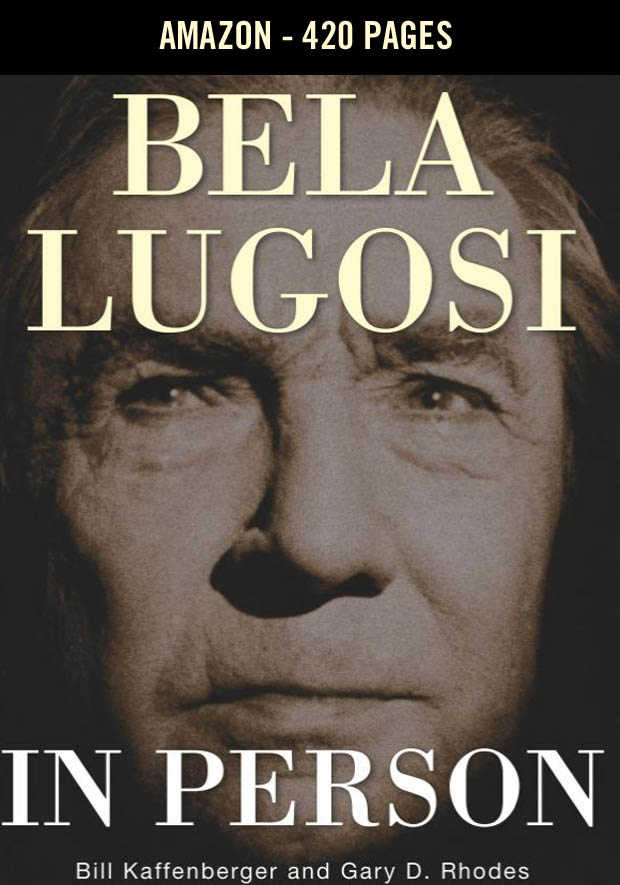 Amazon - Bela Lugosi in Person - 420 pages
Amazon - No Traveler Returns: The Lost Years of Bela Lugosi - 346 Pages
Amazon - Bela Lugosi and Boris Karloff: The Expanded Story of a Haunting Collaboration, with a Complete Filmography of Their Films Together - 701 Pages
---
Frankenstein Created Woman - 1967
Frankenstein meets the Wolfman - 1943
---
Starring Miss Barbara Stanwyck [Illustrated with 310 Photographs] - amazon.com
---
Sophia Loren: A Life in Pictures - 192 Pages - Amazon.com
---
---
What's Recent
---
---
---
Original Page November 6, 2016