Barbara Stanwyck Signature Collection
Amazon.com: Barbara Stanwyck: The Signature Collection (Annie Oakley / East Side, West Side / My Reputation / Executive Suite / Jeopardy / To Please a Lady)
---
The Barbara Stanwyck Signature Collection is a box set of 6 Stanwyck movies:
Annie Oakley (1935)
Directed by George Stevens: One of Stanwyck's most popular films from the 1930s.
Special Features: Main Street Follies, vintage 1935 short starring Hal Le Roy, Into Your Dance, vintage 1935 cartoon, Subtitles in English and French
My Reputation (1946) - More My Reputation
Stanwyck made at least four films with co-star George Brent that I can think of right off the top of my head, and this might be the best. He's going off to war, she's a widower who has slaved to the demands of her "reputation" as viewed by her family and friends. Stanwyck meets Brent and life quickly gets complicated trying to balance the demands of an overbearing mother who is hoping to turn Stanwyck's character into an 'eternal widow' like herself; her two young boys are hearing the local gossip and are getting a lot of wrong ideas; her many social friends become back-biting tale-bearers once it's clear Stanwck's character is straying from within their pre-approved social set (i.e., Brent). Not previously available on VHS or DVD.
Special Features: Jan Savitt and Band, vintage Warner Bros. musical short; Daffy Doodles, vintage Warner Bros. cartoon; Audio Only Bonuses: Vintage Radio Versions - Lux Radio Theater adaptation with Barbara Stanwyck (4/47) and Screen Guild Theater adaptation with Alexis Smith (7/47); Theatrical trailer
Subtitles: English, French & Spanish (Feature film only)
East Side, West Side (1949)
A film noir that has Stanwyck in Manhattan living with a philandering husband (James Mason). Ava Gardner shows up and everything becomes dangerous quickly. Mason is in sleezy-two-faced mode, and Stanwyck has to put up with the confusion and humiliation left in his trail. And, no, by the end Stanwyck's characters is not that dumb. Also includes the very good Van Heflin. Special Features: Counterfeit Cat, vintage MGM Tex Avery cartoon; Stuff for Stuff, vintage MGM short subject; Original theatrical trailer; Subtitles: English and French
To Please a Lady (1950)
This is marginally more Gables film: he's a by-the-seat-of-his-pants midget car racer who gets blamed for a number of track tragedies that aren't necessarily his fault. Stanwyck is a wealthy newspaper columnist who casually destroys his reputation but then in hindsight finds him interesting and perhaps unfairly treated by the press. It's a little bit of the 1930s Gable "Test Pilot" (racing looks pretty dangerous in this movie) and it's a lot of late 1940's romance, with Gable and Stanwyck butting heads and of course finding the other persons contrary nature attractive. Stanwyck at the track watching the race cars flying by seems to really be having a good time. Gable dashes off his lines at his trademark fast-clip. Includes original theatrical trailer.
Jeopardy (1953)
A well-done 'thriller' in which Stanwyck's family is on a vacation that suddenly goes bad in a hurry when the husband gets his leg caught at the beach and the tide is rising. Leaving her son to keep an eye on the trapped man, she goes off in search of help and promptly becomes a hostage for a fleeing serial murderer with an army of police on his trail. Of course, the murdering fugative is now the one in danger now that he's kidnapped Stanwyck. Not previously available on VHS or DVD. Special features: original theatrical trailer, Audio Only Bonus: Jeopardy 1954 Lux Radio Theater Broadcast with Stanwyck. Subtitles: English, French & Spanish
Executive Suite (1954)
A very good film that doesn't really star Stanwyck, but instead her old "Golden Boy" co-star BIll Holden. She has a pivotal role, but the many business world mechanizations are the main focus of this well made movie. Special Features: Feature commentary by Oscar-winning director Oliver Stone; Out for Fun, vintage MGM Pete Smith Short; Billy Boy vintage MGM Tex Avery Cartoon; Original theatrical trailer; Subtitles: English & Spanish (feature film only)
Order from amazon.com
---
The Bitter Tea of General Yen 1933
The Lady Eve - 1941 - Preston Sturges Comedy
Ball of Fire - 1941 - Stanwyck and Gary Cooper
My Reputation - 1946 (older-review)
Strange Love of Martha Ivers - 1946
Barbara Stanwyck Show - Yanqui Go Home - 1961
Barbara Stanwyck Show - Sign of the Zodiak - 1961
Barbara Stanwyck Show - Frightened Doll - 1961
The Barbara Stanwyck Collection - Review

---
Back From Eternity
---
Original page Dec 2012

You will see Amazon links on this web site because I am an Amazon affiliate. I earn from qualifying purchases.
---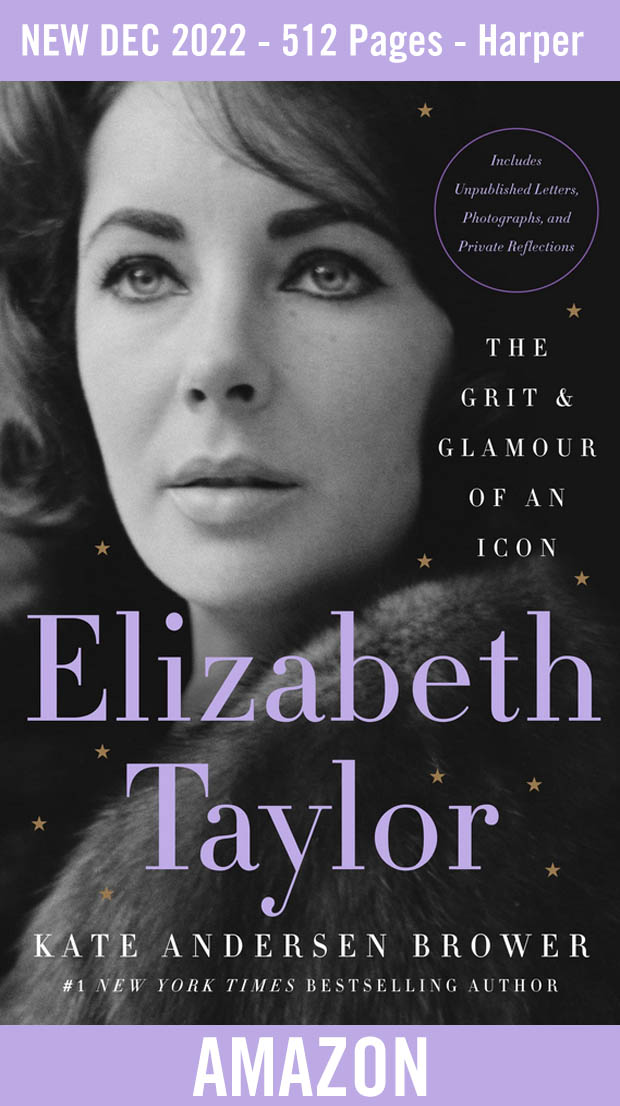 Elizabeth Taylor: The Grit & Glamour of an Icon - 512 Pages
"A dazzling portrait of an incredible woman. Elizabeth's life was more captivating than any film could ever be."— Demi Moore
"Brower's book takes the reader into the private world of the most famous celebrity of the 20th century. Elizabeth's heart, mind, and passion come vividly alive on each page. We see her as a woman who struggled and ultimately survived to rewrite the playbook on celebrity and power. I never wanted it to end!" — Brooke Shields
"Brower is quickly becoming a brand-name Washington writer because of her ability to deliver juicy tidbits and insider information while steering her books toward a mainstream audience without sacrificing historical credibility." — Christian Science Monitor on TEAM OF FIVE
Amazon Link to pre-order Elizabeth Taylor: The Grit & Glamour of an Icon Hardcover
Audio Book version - Elizabeth Taylor: The Grit & Glamour of an Icon
[This is an affiliate Amazon link which may provide a commission earned for this site. If that happens, we'll probably buy an old movie on Blu Ray with the proceeds.]
---
What's Recent
---
---