Barbara Stanwyck TV Show
---
Barbara Stanwyck Bio Page
---
Stanwyck's long unseen television series now on DVD: features Barbara Stanwyck, Lee Marvin, Anna May Wong, Ralph Bellemy, Yvonne Craig, Vic Morrow and others
October 5, 2009: Originally called "The Barbara Stanwyck Theatre," this 1960-61 series gained Stanwyck an Emmy award for best lead actress, was actually called "The Barbara Stanwyck Show" and only aired for a single season. Because the program never entered syndication, the series has been virtually unseen for 49 years, and it was with difficulty that this set of 15 episodes has been collected. The DVD release also includes the involvement of Turner Classic Movies Robert Osbourne and also has the never aired pilot episode "Sponsor'sTable."
"Throughout her illustrious career, Barbara Stanwyck enraptured Hollywood, starring in almost 100 films (including Double Indemnity and Sorry, Wrong Number) and capturing four Oscar®-nominations. After conquering the silver screen, Barbara took on the television world, earning Emmy nominations for her roles in "The Thorn Birds" and "The Big Valley." In the acclaimed NBC anthology series, The Barbara Stanwyck Show, the beloved actress served as hostess and starred in many of the productions. This collection showcases 15 of the most memorable dramas from the Emmy award-winning series – featuring Milton Berle, Lee Marvin, Vic Morrow, James Hong, Ralph Bellamy and more."
According to amazon.com, the following episodes are in the set: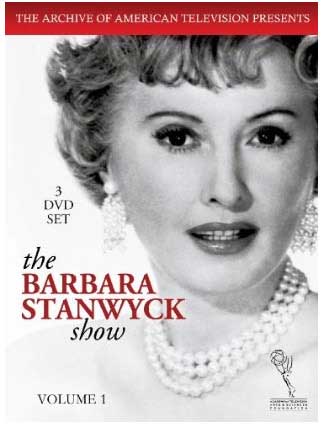 "The Key to a Killer" (originally aired 10.31.1960). Stella King's (Stanwyck) husband is a sheriff and she's his deputy. So when he falls ill, she's left in full charge of killer Leroy Benson (Vic Morrow).
"House in Order" (11.07.1960). Dr. Steele tells Elizabeth Mowry (Stanwyck) she needs heart surgery immediately. Elizabeth suddenly realizes that she may only have a few hours left to regain the love of her husband (Shepperd Strudwick) and daughter (Yvonne Craig).
"The Miraculous Journey of Tadpole Chan" (11.14.1960). In China, Josephine Little (Stanwyck) is bickering with Mr. Dobson (Ralph Bellamy) of the American consulate about some silk dresses she wants to ship to New York. This was the first of three episodes in which Stanwyck played Josephine Little.
"The Secret of Mrs. Randall" (11.21.1960). Liz Randall (Stanwyck) has been the president of an oil-drilling company since the death of her husband. She arranges for the parole of Roy Turner (Bruce Gordon), who was jailed for stealing the company payroll.
"Ironback's Bride" (11.28.1960). Ella (Stanwyck) doesn't want her son to grow up like his father - shiftless outlaw Charlie Cahill (Gerald Mohr). So she gets a divorce and becomes the mail-order bride of a wealthy man (Charles Bickford).
"Out of the Shadows" (12.19.1960). Mental patient Victor Brackett's (William Stephens) case is coming up for review. But after interviewing Brackett, Dr. Susan Bryce (Stanwyck) decides that he's not ready to be released.
"Night Visitors" (01.09.1961). Estranged from her wealthy husband, Marian Andrews (Stanwyck) plans a trip to Europe. Julie London and Michael Ansara guest star.
"Size Ten" (01.16.1961). Designer Maggie Wenley (Stanwyck), relentlessly dedicated to her business, feels that her staff is completely loyal. It's a shock to find that one of her secret sketches is missing. Robert Paige and Robert Strauss guest star.
"Dear Charlie" (01.23.1961). Tessie and Elvie (Lurene Tuttle and Katherine Squire) are a couple of lonely old maids who decide they need someone around the house to care for. They put an ad in the paper for a male boarder (Milton Berle). Stanwyck hosts this episode, which was an unsold pilot for a proposed new series for Berle.
"Dragon by The Tail" (01.31.1961). Stanwyck returns as Josephine Little, an American importer caught up in intrigue in Hong Kong. Anna May Wong guest stars.
"The Sisters" (02.06.1961). Janet Jones (Stanwyck) indulges in a bit of shoplifting in Julius Ulrich's (Michael Rennie) jewelry store ... but it's all part of a plan. Janet wants to meet Julius, the former husband of her sister Kate (Ellen Drew).
"Big Career" (02.13.1961). Harriet Melvane (Stanwyck) pursues a new career against her husband's wishes. Gene Raymond, Elizabeth Patterson, Frank Overton and Amanda Randolph costar.
"Confession" (02.20.1961). Unhappy in her marriage to Morgan Manning (Kenneth MacKenna), Paula (Stanwyck) seeks legal advice. Jud Hollister (Lee Marvin), her lawyer, believes a divorce may be difficult to obtain, and suggests an alternate plan.
"Along the Barbary Coast" (02.27.1961). Stanwyck stars as Trixie Callahan, a con artist who falls in with bad company. Richard Eastham and Jerome Thor costar.
"Shock" (03.06.1961). Rachel Harrison (Stanwyck) has just made a discovery vital to the national defense. Before she can transmit the information, she gets news of her daughter's death, and enters a state of shock. Eduard Franz, Mike Deene, Ross Elliott, and Donald Buka costar.
DVD BONUS FEATURES:
1. The never aired pilot episode, "Sponsor's Table"
2. Stanwyck's 1961 Emmy Acceptance Speech
3. Booklet including contributions by film historian and TCM host Robert Osborne
The Barbara Stanwyck Show Vol 1 DVD is available from amazon.com
---
The Bitter Tea of General Yen 1933
Internes Can't Take Money 1937
The Lady Eve - 1941 - Preston Sturges Comedy
Ball of Fire - 1941 - Stanwyck and Gary Cooper
My Reputation - 1946 (older-review)
Strange Love of Martha Ivers - 1946
Barbara Stanwyck Show - Yanqui Go Home - 1961
Barbara Stanwyck Show - Sign of the Zodiak - 1961
Barbara Stanwyck Show - Frightened Doll - 1961
The Barbara Stanwyck Collection - Review

---
Back From Eternity
---
Original page Dec 2012
---
What's Recent
---
---