Stanwyck TCM Film Festival
August 2008 - Stanwyck Film Marathon
TCM runs Ruby Catherine Stevens' [aka Barbara Stanwyck ]
movies all day on August 19, 2008
As part of their "Summer under the Stars" month long an-actor-a-day festival, TCM has an animated promo for their Stanwyck schedule which also gives a synopsis of each of her films they're showing (they're also including Richard Schickel's 1991 documentary "Fire and Desire" which has appeared a number times on both AMC and TCM).
Here is a breakdown of all the titles the TCM Cable Television and Satellite channel will be running on August 19 (all times are Eastern United States):
6:00am [Documentary] Barbara Stanwyck: Fire and Desire (1991)
Barbara Stanwyck's multi-faceted career reveals uncanny reflections of her off-screen life.
Cast: Sally Field, Barbara Stanwyck, Gary Cooper. Dir: Richard Schickel. C-46 mins
7:00am [Drama] Illicit (1931)
Young free-thinkers turn conventionally jealous when they marry.
Cast: Barbara Stanwyck, James Rennie, Ricardo Cortez. Dir: Archie Mayo. BW-80 mins
8:30am [Drama] Ten Cents A Dance (1931)
A taxi dancer with a jealous husband finds herself falling for a wealthy client.
Cast: Barbara Stanwyck, Ricardo Cortez, Monroe Owsley. Dir: Lionel Barrymore. BW-77 mins,
10:00am [Drama] Night Nurse (1931)
A nurse discovers that the children she's caring for are murder targets.
Cast: Barbara Stanwyck, Ben Lyon, Clark Gable. Dir: William A. Wellman. BW-72 mins
11:15am [Drama] Forbidden (1932)
On an ocean voyage, a librarian falls for a married man.
Cast: Barbara Stanwyck, Adolphe Menjou, Ralph Bellamy. Dir: Frank Capra. BW-85 mins
12:45pm [Romance] Shopworn (1932)
A waitress falls for a wealthy young man but has to fight his mother to find happiness.
Cast: Barbara Stanwyck, Regis Toomey, Zasu Pits. Dir: Nick Grinde. BW-66 mins
2:00pm [Drama] Ever In My Heart (1933)
During World War I, a woman suspects her husband of being a German spy.
Cast: Barbara Stanwyck, Otto Kruger, Ralph Bellamy. Dir: Archie Mayo. BW-68 mins
3:15pm [Drama] Baby Face (1933)
A beautiful schemer sleeps her way to the top of a banking empire.
Cast: Barbara Stanwyck, George Brent, John Wayne. Dir: Alfred E. Green. BW-76 mins
4:45pm [Comedy] The Bride Walks Out (1936)
A model weds a struggling engineer then has her own struggles with domesticity.
Cast: Barbara Stanwyck, Gene Raymond, Robert Young. Dir: Leigh Jason. BW-81 mins
6:15pm [Comedy] You Belong to Me (1941)
A playboy marries a woman doctor then grows jealous of her male patients.
Cast: Barbara Stanwyck, Henry Fonda, Edgar Buchanan. Dir: Wesley Ruggles. C-95 mins
8:00pm [Suspense/Mystery] The Locked Door(1929)
A woman once kidnapped by a wealthy womanizer tries to save her sister from him Cast: Rod La Rocque, Barbara Stanwyck, William 'Stage' Boyd. Dir: George Fitzmaurice. BW-74 mins
9:17pm [Short Film] Short Film: One Reel Wonders: Hot Sands (1931)
9:30pm [Suspense/Mystery] The File On Thelma Jordon (1950)
A woman seduces a District Attorney and pulls him into a web of theft and murder.
Cast: Barbara Stanwyck, Wendell Corey, Paul Kelly. Dir: Robert Siodmak. BW-100 mins
11:15pm [Suspense/Mystery] Witness To Murder (1954)
A woman fights to convince the police that she witnessed a murder.
Cast: Barbara Stanwyck, George Sanders, Gary Merrill. Dir: Roy Rowland. BW-82 mins
12:45am [Suspense/Mystery] Crime Of Passion (1957)
An executive's wife barters sex for her husband's business success.
Cast: Barbara Stanwyck, Sterling Hayden, Raymond Burr. Dir: Gerd Oswald. BW-86 mins
2:15am [Romance] Clash By Night (1952)
An embittered woman seeks escape in marriage, only to fall for her husband's best friend.
Cast: Barbara Stanwyck, Robert Ryan, Marilyn Monroe. Dir: Fritz Lang. BW-105 mins, TV-PG [Close Captioned]
4:00am [Romance] B.F.'s Daughter (1948)
A professor doesn't know his wife is an heiress.
Cast: Barbara Stanwyck, Van Heflin, Charles Coburn. Dir: Robert Z. Leonard. BW-108 mins, TV-PG
---
The Bitter Tea of General Yen 1933
The Lady Eve - 1941 - Preston Sturges Comedy
Ball of Fire - 1941 - Stanwyck and Gary Cooper
My Reputation - 1946 (older-review)
Strange Love of Martha Ivers - 1946
Barbara Stanwyck Show - Yanqui Go Home - 1961
Barbara Stanwyck Show - Sign of the Zodiak - 1961
Barbara Stanwyck Show - Frightened Doll - 1961
The Barbara Stanwyck Collection - Review

---
Original Page September 2008, updated July 2011
---
You will see Amazon links on this web site because I am an Amazon affiliate. I earn from qualifying purchases.
---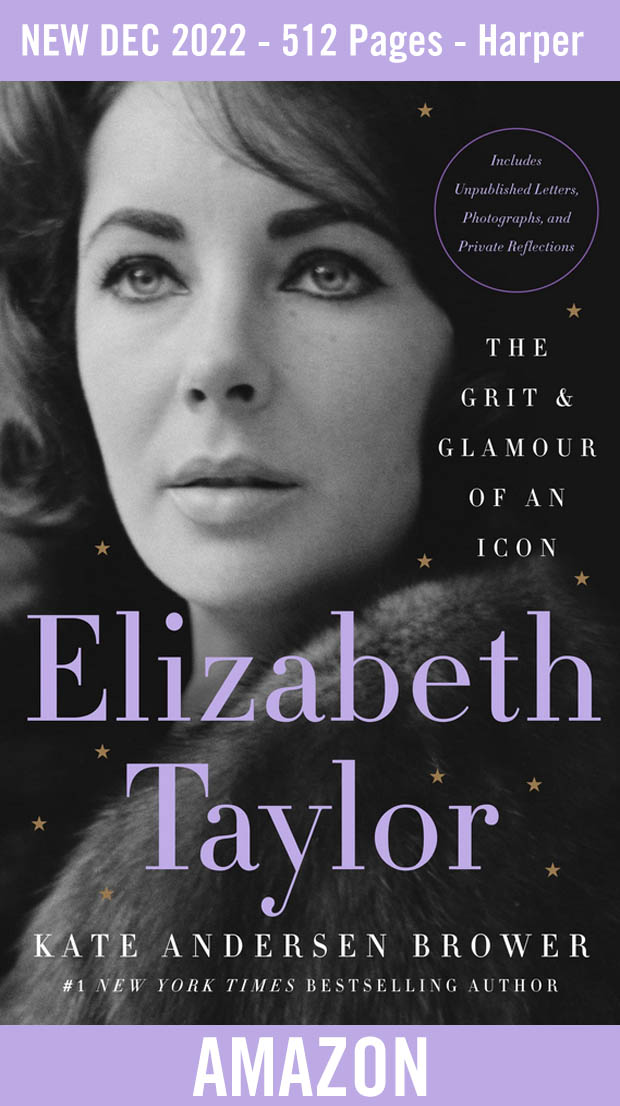 Elizabeth Taylor: The Grit & Glamour of an Icon - 512 Pages
"A dazzling portrait of an incredible woman. Elizabeth's life was more captivating than any film could ever be."— Demi Moore
"Brower's book takes the reader into the private world of the most famous celebrity of the 20th century. Elizabeth's heart, mind, and passion come vividly alive on each page. We see her as a woman who struggled and ultimately survived to rewrite the playbook on celebrity and power. I never wanted it to end!" — Brooke Shields
"Brower is quickly becoming a brand-name Washington writer because of her ability to deliver juicy tidbits and insider information while steering her books toward a mainstream audience without sacrificing historical credibility." — Christian Science Monitor on TEAM OF FIVE
Amazon Link to pre-order Elizabeth Taylor: The Grit & Glamour of an Icon Hardcover
Audio Book version - Elizabeth Taylor: The Grit & Glamour of an Icon
[This is an affiliate Amazon link which may provide a commission earned for this site. If that happens, we'll probably buy an old movie on Blu Ray with the proceeds.]
---
What's Recent
---
---